Hidizs Global Review Tour Is Underway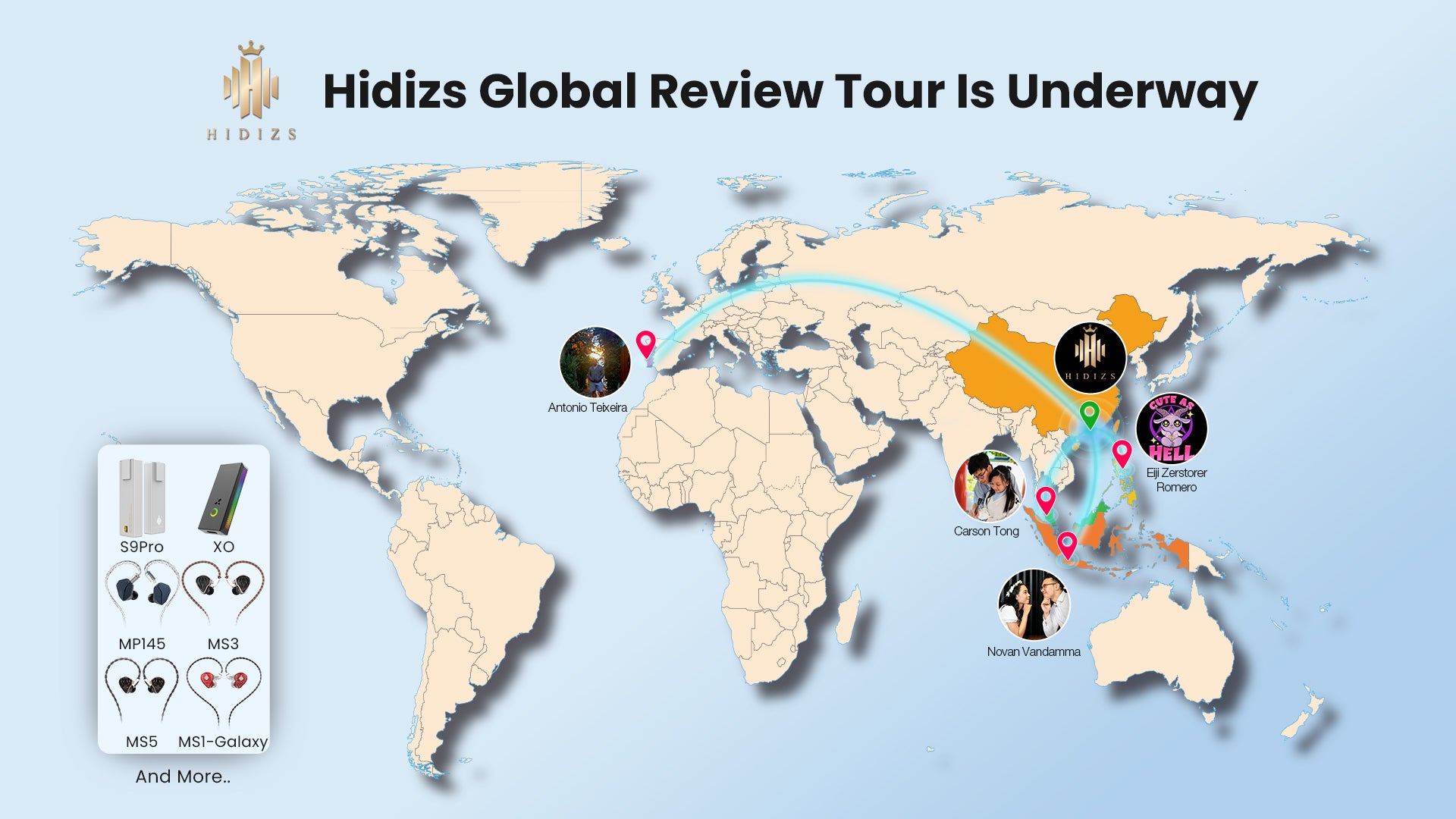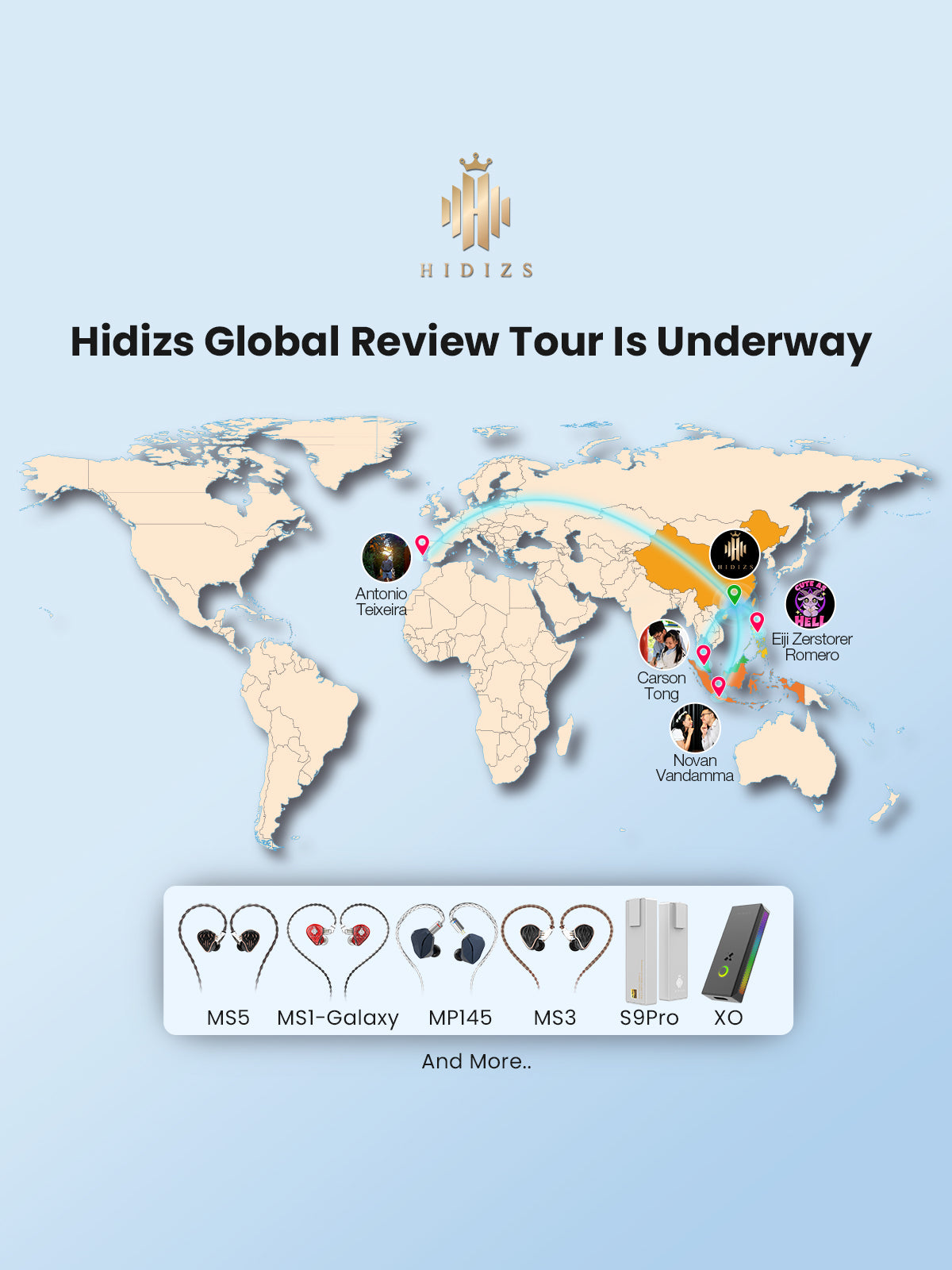 For true and authentic facing customers, we initiated the Hidizs Global Review Tour starting from May 2023. To date, we have had over 30 participants from five different countries reviewing six different products. Thanks to your support, we have published more than 15 reviews on various platforms. These reviews have not only increased the awareness of our products but also provided us with invaluable feedback.
Our Objectives
Hidizs has always been dedicated to providing high-quality audio products to audio enthusiasts.
Through the Hidizs Global Review Tour Program, we aim to:
Build Community Connections: Establish closer ties with audio enthusiasts worldwide, listen to their voices, and acknowledge their support.
Provide Product Experiences: Give more people the chance to experience our products firsthand and gain deeper insights into our technology and design philosophy.
Share Valuable Feedback: Your reviews allow us to understand the strengths and areas for improvement of our products, enabling us to further enhance our offerings.
Malaysia:
Coordinator: Carson Tong
"Regardless, the XO is still a worthy selection for those who wanted something that is aesthetically unique and quirky that was executed very well."

Click here to see full review.
"To wrap things up, the Hidizs Mermaid MS3 was overall a tonally warm, engaging, musical sounding pair of IEMs whilst still capable of delivering remarkable amount of details and clarity revealing as much details and subtle nuances it can draw out from your music."

Click here to see full review.
Indonesia:
Coordinator: Novan Vandamma
Novan Vandamma MS3 Review

"Hidizs MS3 is an all rounder with the best genres being acoustic, rock, and orchestra."

Click here to see full review.
Novan Vandamma MS5 Review

"Intimate presentation, with a 3D-like inside-your-head experience, and superb layering. That's why a song with good mastering is needed to enjoy the Hidizs MS5 to the fullest!"

Click here to see more review.
Barry Euthanasia MS3 Review

"Filter silver + eartips balanced ini set up yg cocok buat source dan selera saya, kuantitas bass lumayan gede dengan teksture yg bagus, impact nya punchy, dan detail yg bagus, mid yg posisi nya cukup pas buat saya, walaupun aga rawan sibilanced tapi masih bisa di terima di kuping saya, treable yang energik dan extend."

Click here to see full review.
"Hidizs MS3 ini memang IEM dengan karakter V-Shape. Walaupun begitu IEM ini masih bisa diterima kuping saya yg prefer IEM berkarakter Harman atau IEF-Neutral dan prefer IEM yg punya vokal maju."

Click here to see full review.
Philippines:
Coordinator: Eiji Zerstorer Romero
"Overall, the MS5's combination of natural timbre, superb imaging and detail retrieval, and holographic sound presentation make it an exceptional choice for audiophiles and even musicians."

Click here to see full review.
Wesley Ambrocio XO Review

"In a nutshell, this small powerhouse deserves more exposure for those who are into a dongle that could provide a pristine, accurate sounding and capable of providing wide gear coverage of driving power."

Click here to see full review.
Wesley Ambrocio MS5 Review

"Overall, the Hidizs MS5 Dark Angel is a solid choice for anyone looking for an engaging and versatile pair of earphones."

Click here to see full review.
DRIVE TYPE KISO MS5 Review

"In summary, the HIDIZS MS5 earphones offer impressive sound quality across all frequencies and tuning filters. The well-balanced bass, mids and treble provide a dynamic sound signature suitable for different music genres."

Click here to see full review.
DRIVE TYPE KISO XO Review

"In conclusion, the HIDIZS XO Dac/Amp offers a neutral analytical sound signature that produces accurate and detailed audio output with natural timbre and imaging."

Click here to see full review.
Portugal:
Coordinator: Antonio Teixeira
Product Images Shared by Review Tour Participants
Normal Procedure for the Hidizs Global Review Tour
Team Formation: The coordinator assembles a team of five or more individuals to initiate the review tour program.
Product Provision: We will provide selected participants with products for review. During the review period, you will have time to get to know the product thoroughly and document your experiences.
Writing Reviews: After completing your review, we encourage you to post your reviews on various audio communities and platforms. 
Feedback and Sharing: Your feedback is highly valued. Your reviews provide us with crucial information to help us continuously improve our products.
Contact Us
The Global Review Tour Program is currently undergoing a trial phase in select countries. We warmly invite experienced and responsible coordinators to join us on this exciting new journey together. If you are interested in joining us, kindly leave your detail info and message to us, let us know you want to be a coordinator or tour reviewer, and why? We will contact you accordingly.
The Hidizs Global Review Tour Program is an exciting new initiative. We appreciate your ongoing support, and it is your enthusiasm and feedback that drive us forward.
The detailed Hidizs Global Review Tour Program is under optimized, please continue to follow our social media channels and official website for the latest information about the program. We are eager to build deeper connections with you as we explore the wondrous world of audio together.
Once again, thank you for your participation and support!
Warm regards,
The Hidizs Team