Save the whales, save the world.
Whale and Dolphin Conservation (WDC) is the leading global charity dedicated to the protection of whales, dolphins, and their ocean homes. As the design of the MP145 was inspired by whales, we're proudly supporting WDC's Green Whale work and helping to raise awareness about the vital role whales play in the health of our oceans, and ultimately our planet. Learn more about these amazing animals here, and follow us on social media to get updates about our partnership.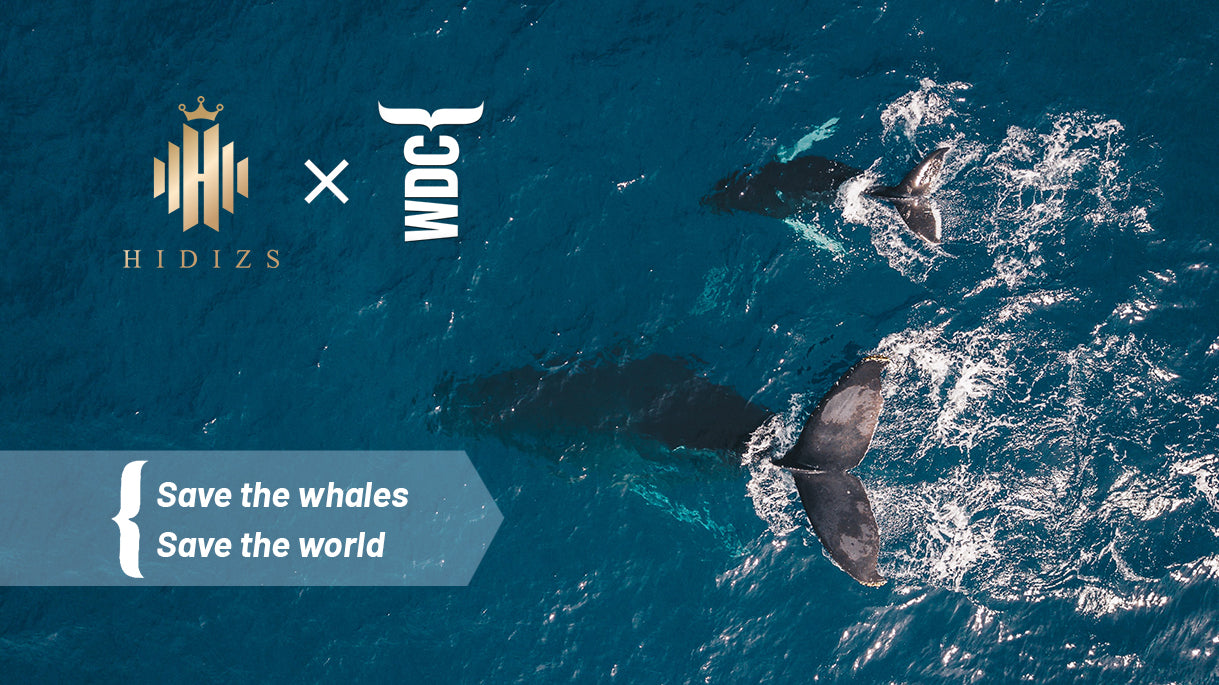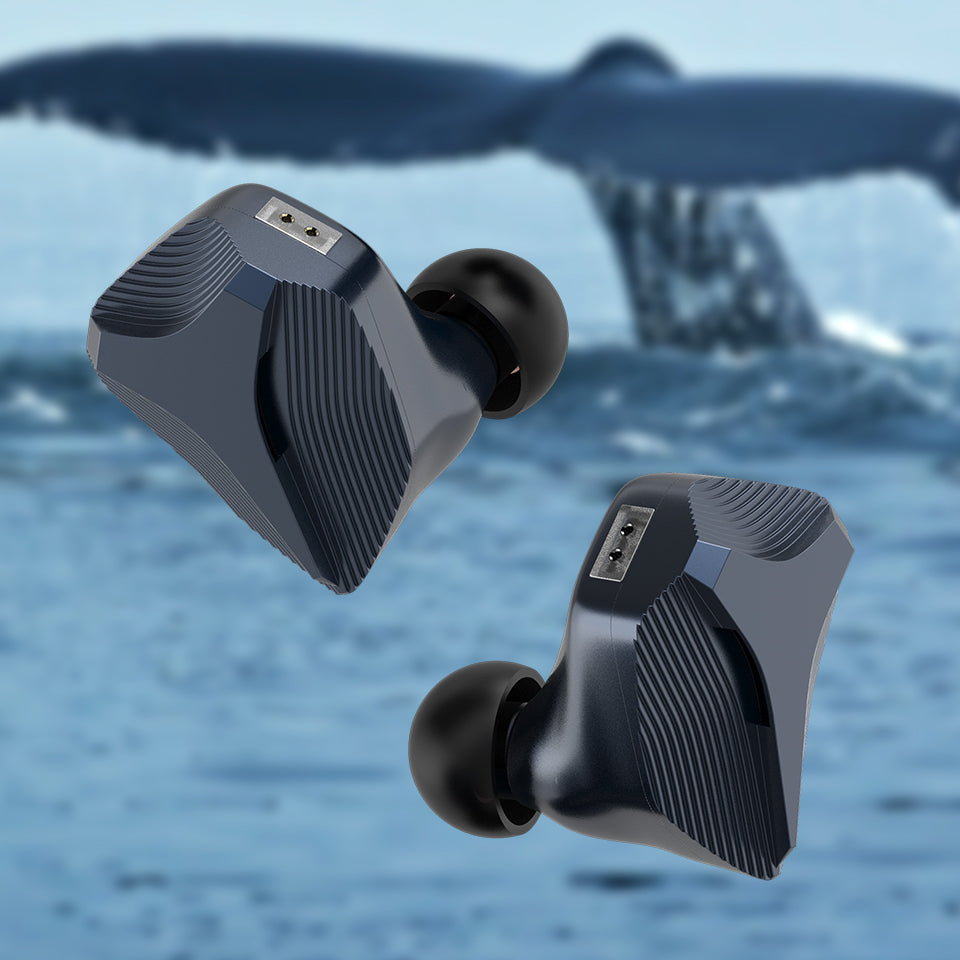 Whale Inspired Design
Hidizs MP145 in-ear monitors draw inspiration from whales' biological features, seamlessly incorporating whale tail and rorqual pleat characteristics for a smooth, ergonomic shape that fits perfectly in the human ear canal.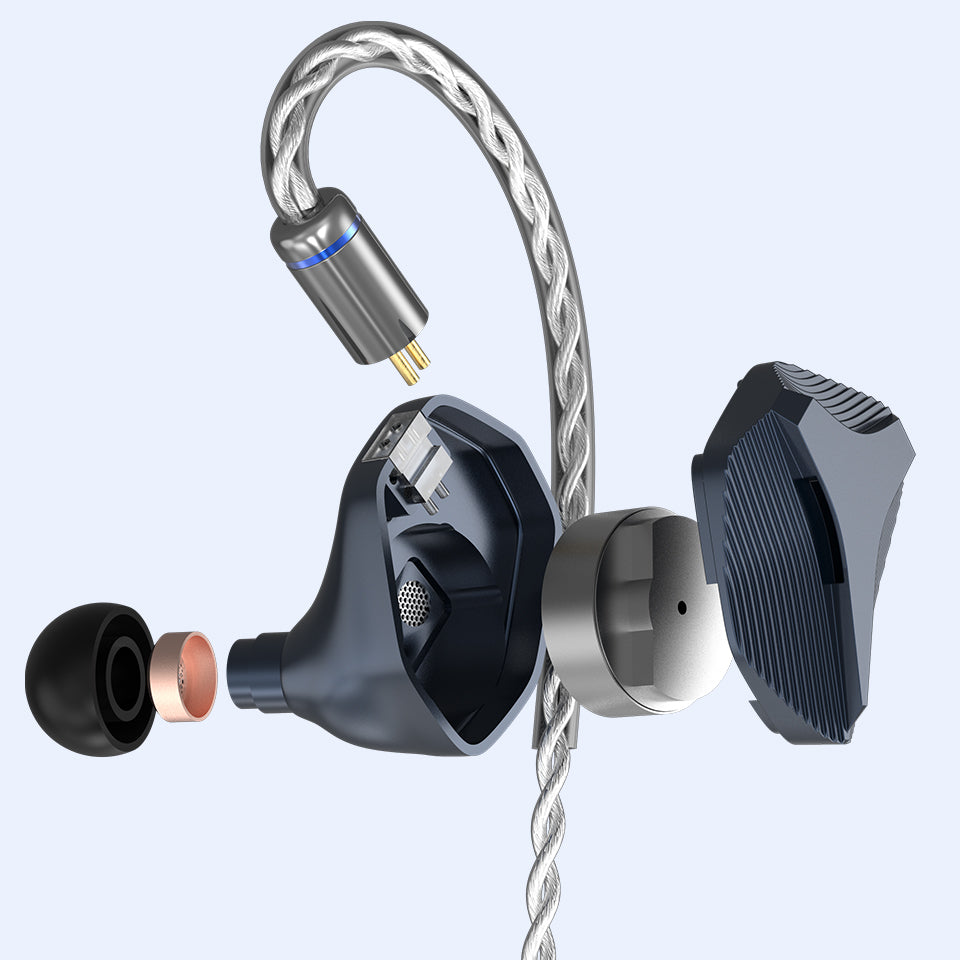 Hidizs Customized "FAST" 14.5mm Ultra-large Planar Magnetic Driver
Experience mesmerizing soundstage, stunning clarity, and rich natural details with the 14.5mm ultra-large planar magnetic driver of Hidizs MP145.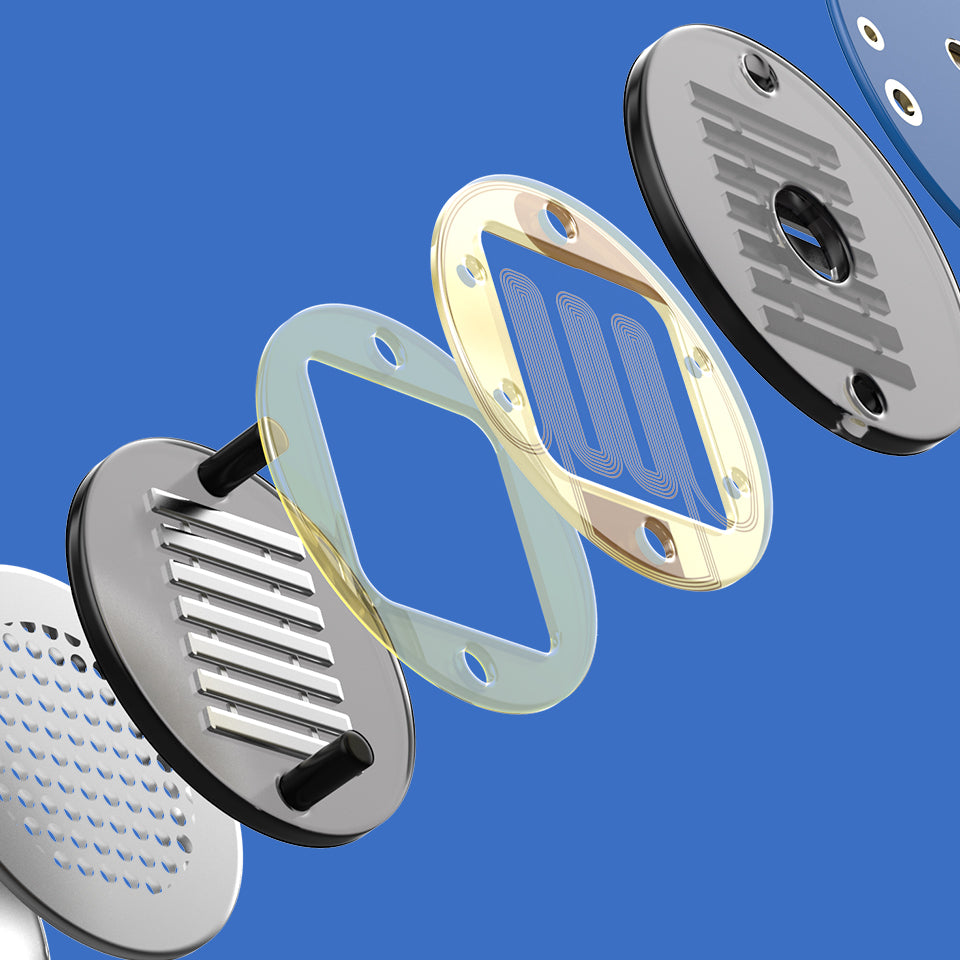 Fully Symmetrical Magnetic Circuit
Immerse yourself in crystal-clear sound quality with unparalleled brilliance, thanks to the precise arrangement of 7+7 N52H magnets, lower harmonic distortion, enhanced magnetic circuit efficiency, and close to 1 Tesla magnetic flux.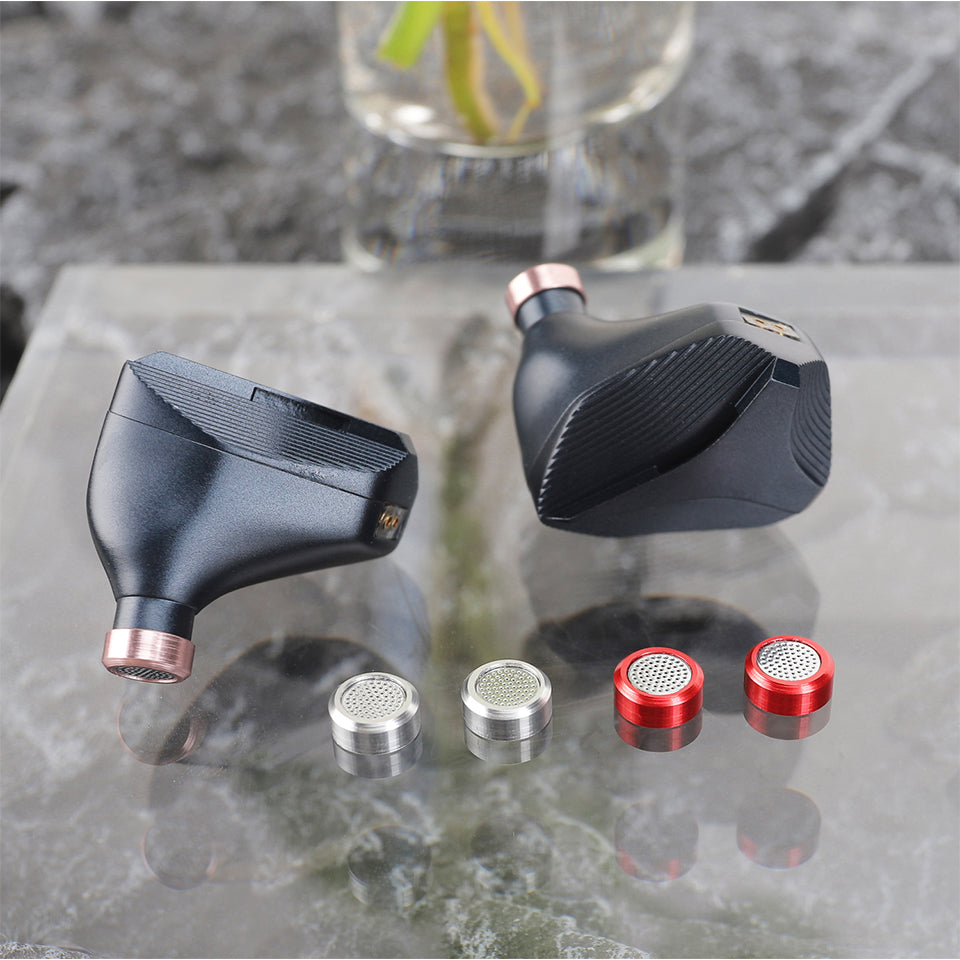 Customize Your Sonic Bliss: 3 Pneumatic Sound Tuning Filters
Immerse yourself in a world of customizable sonic bliss with Hidizs MP145's 3 Pneumatic Sound Tuning Filters and specially designed ear tips for low/mid/high frequencies. Effortlessly switch between 9 different music styles, tailoring your audio experience to your liking, and rediscover the essence of real music scenes with delicate melodies, powerful bass, or a balanced blend.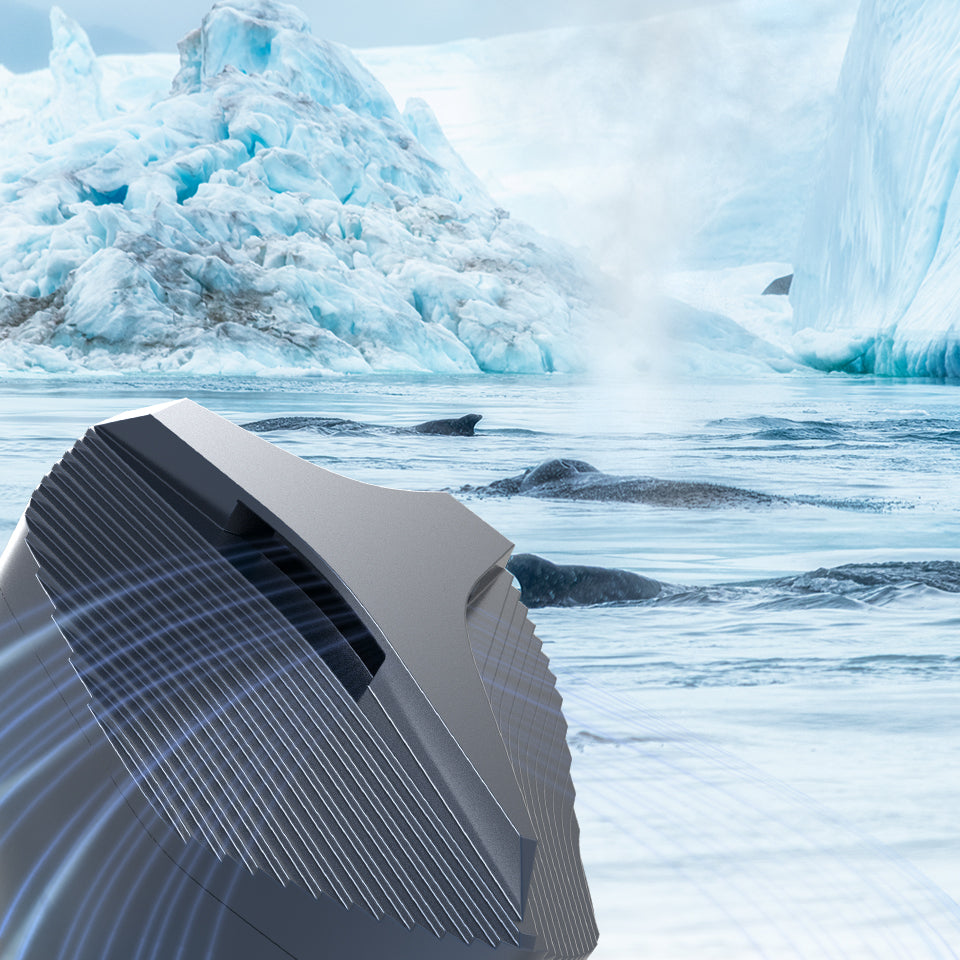 Whale-inspired Bionic Breathing: Hidden Ventilation Ports
Hidizs MP145's thoughtful design with hidden ventilation ports and ample space for its large diaphragm ensures captivating audio performance, delivering deep, immersive bass and soaring highs for an exhilarating musical experience.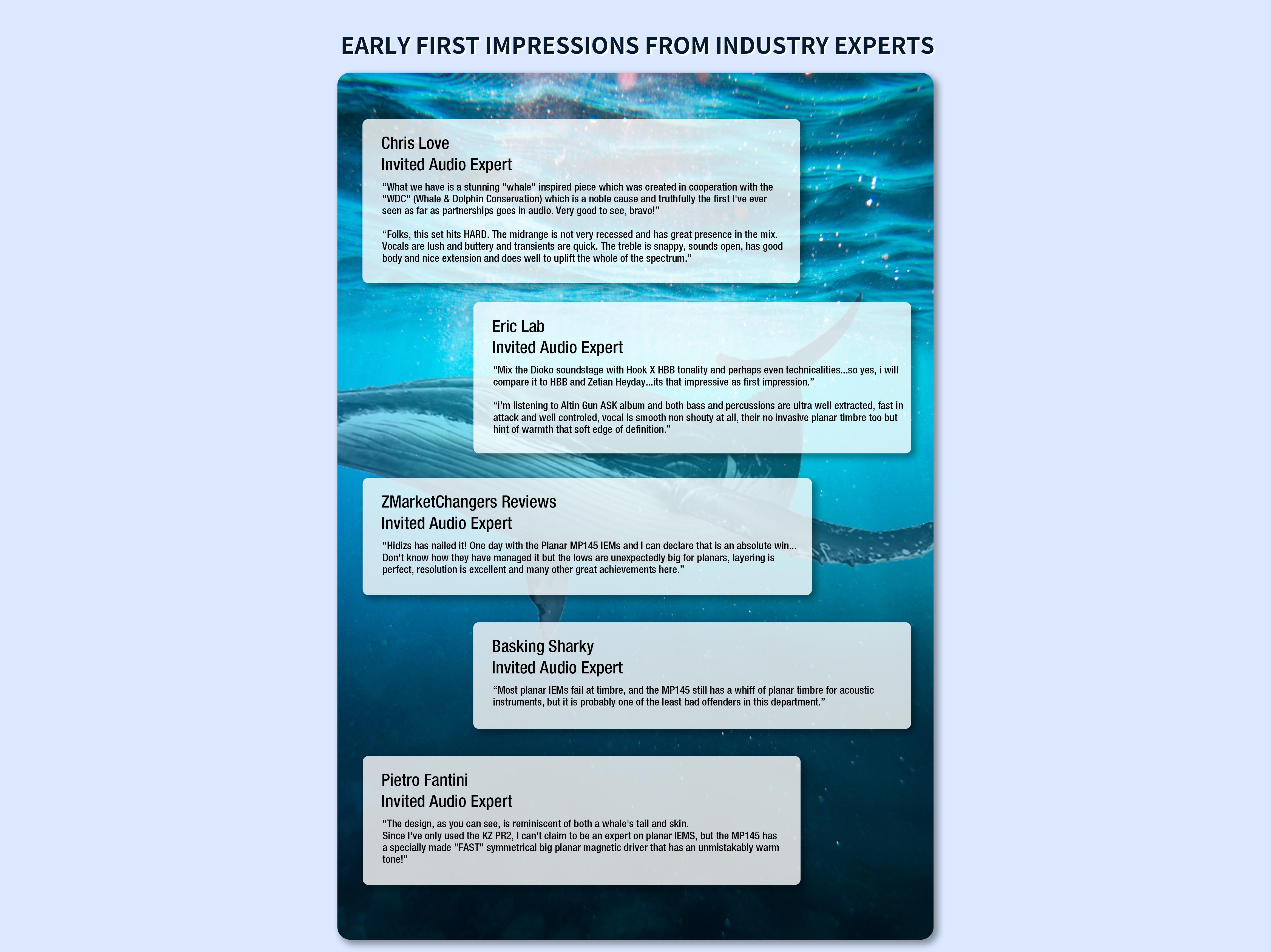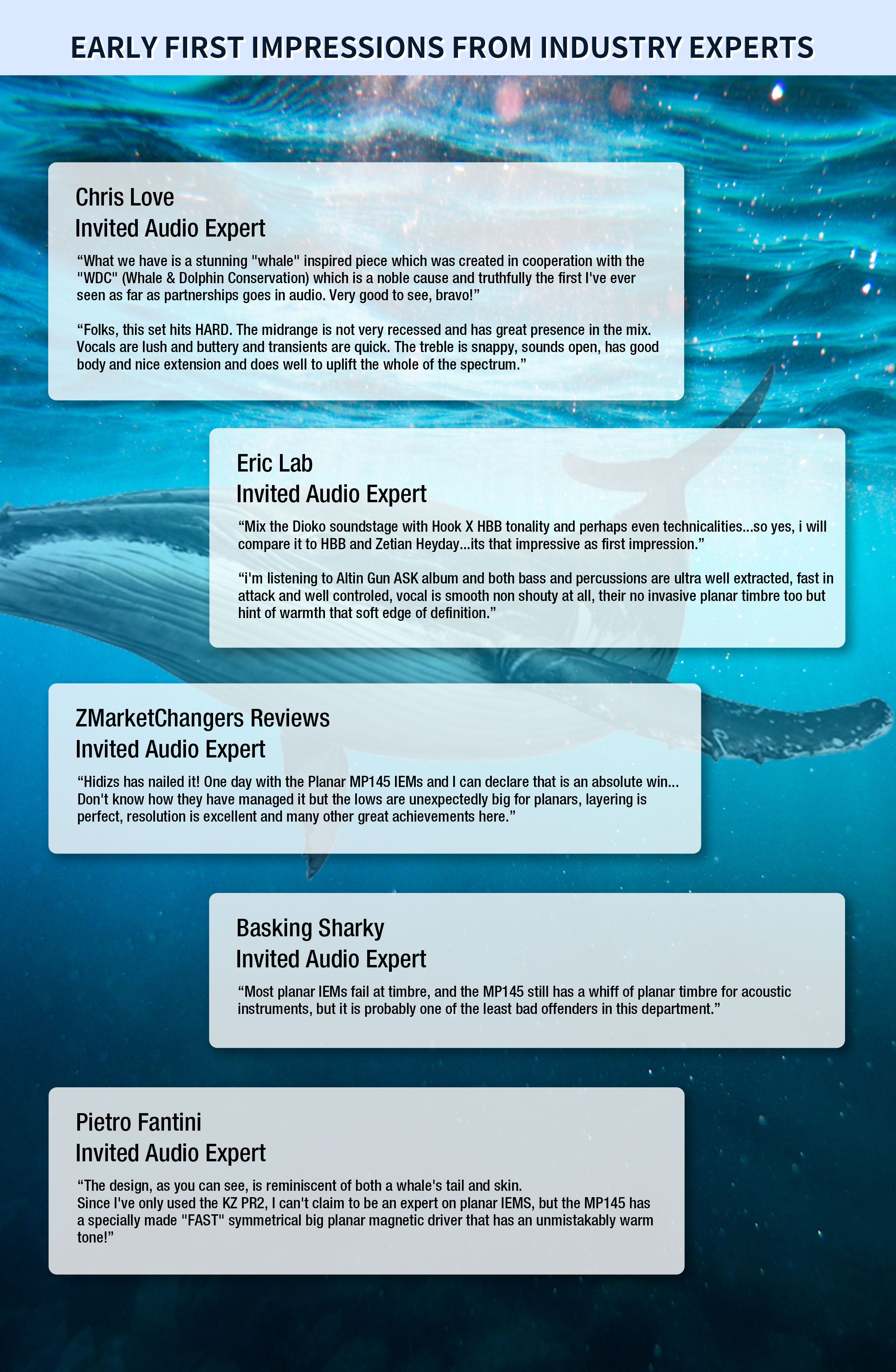 Take It Everywhere: Unmatched Audio Quality Without the Bulk
Rediscover audio enjoyment on the go with the Hidizs MP145 IEM, a sleek and lightweight in-ear monitor delivering mesmerizing soundstage and astonishing clarity, thanks to its 14.5mm large driver, all without the burden of over-ear headphones. Whether you're on the go, working out, or simply relaxing, rediscover your favorite tracks with the utmost comfort and convenience.
You Might Not Even Notice It's There: Design with Comfortable Extended Wear
The Hidizs MP145's lightweight design and precise weight distribution, - each earphone weighing less than 9.5g (excluding cables) - ensures a stable and comfortable fit, even with its 14.5mm large driver, allowing for long-lasting, burden-free listening pleasure.
An IEMs for Everyone: Perfect Match with Any Dongle DACs/Music Players/Smart Devices
The Hidizs MP145, with its 104dB high sensitivity, effortlessly pairs with cell phones, dongle DACs, and music players, delivering optimal volume and fast response. Mild audiophiles and music lovers will appreciate its versatility with small dongle DACs and smart devices, while hard-core HiFi audiophiles can revel in the immersive experience when paired with a music player or powerful amplifier. Enjoy exceptional audio quality and versatility, whether streaming music, gaming, or simply relaxing.
Hidizs Tuning Style: Perfectly Aligned with H-2019 Target Curve and Live Sound Tuning
Meticulous calibration using the B&K HAT testing tool and extensive Hidizs Acoustic Lab testing ensure precise alignment with the H-2019 target curve. Enhanced mid-frequency response details create an outstanding soundstage for captivating vocals and live performances, immersing you in the experience of a live concert.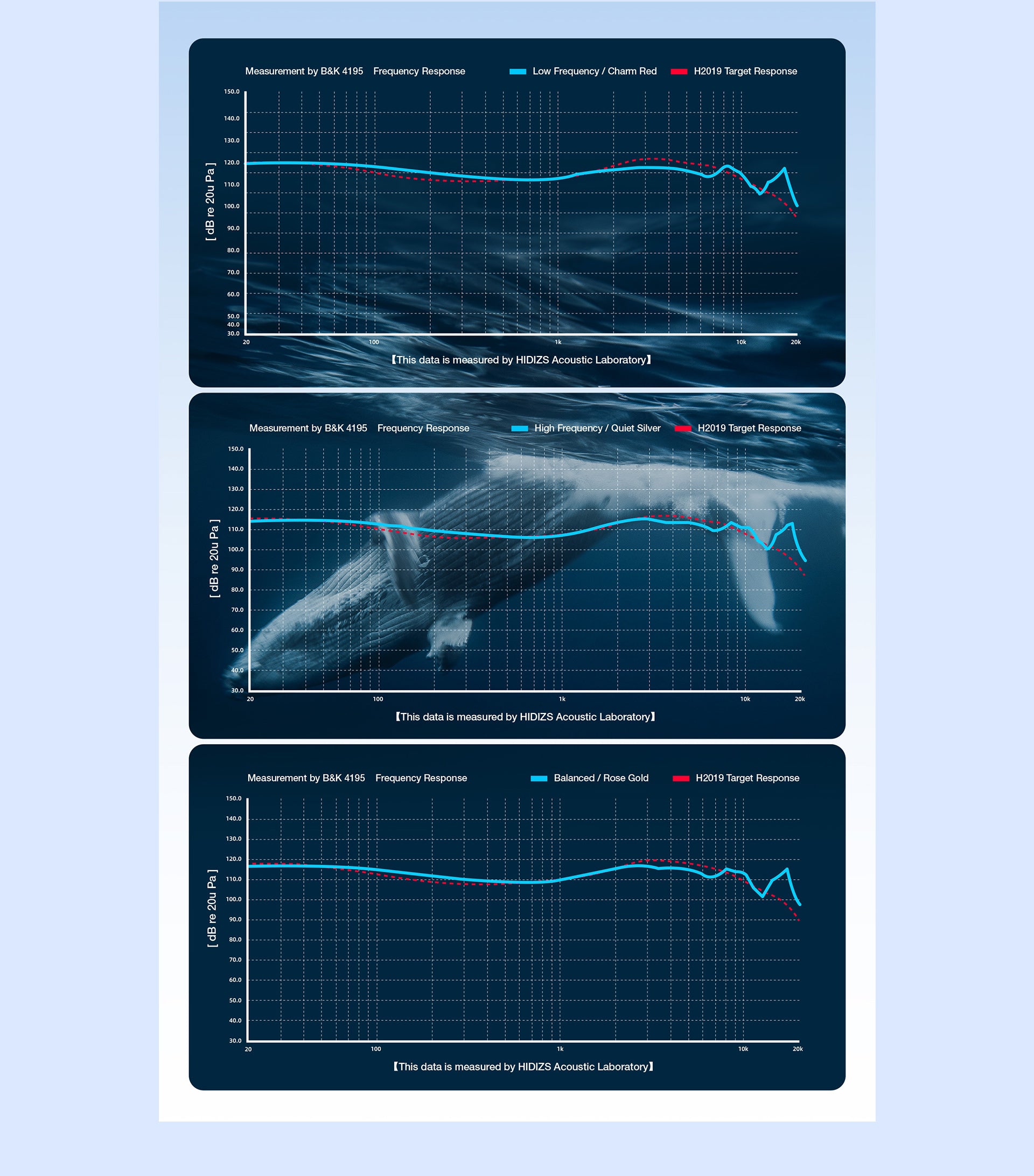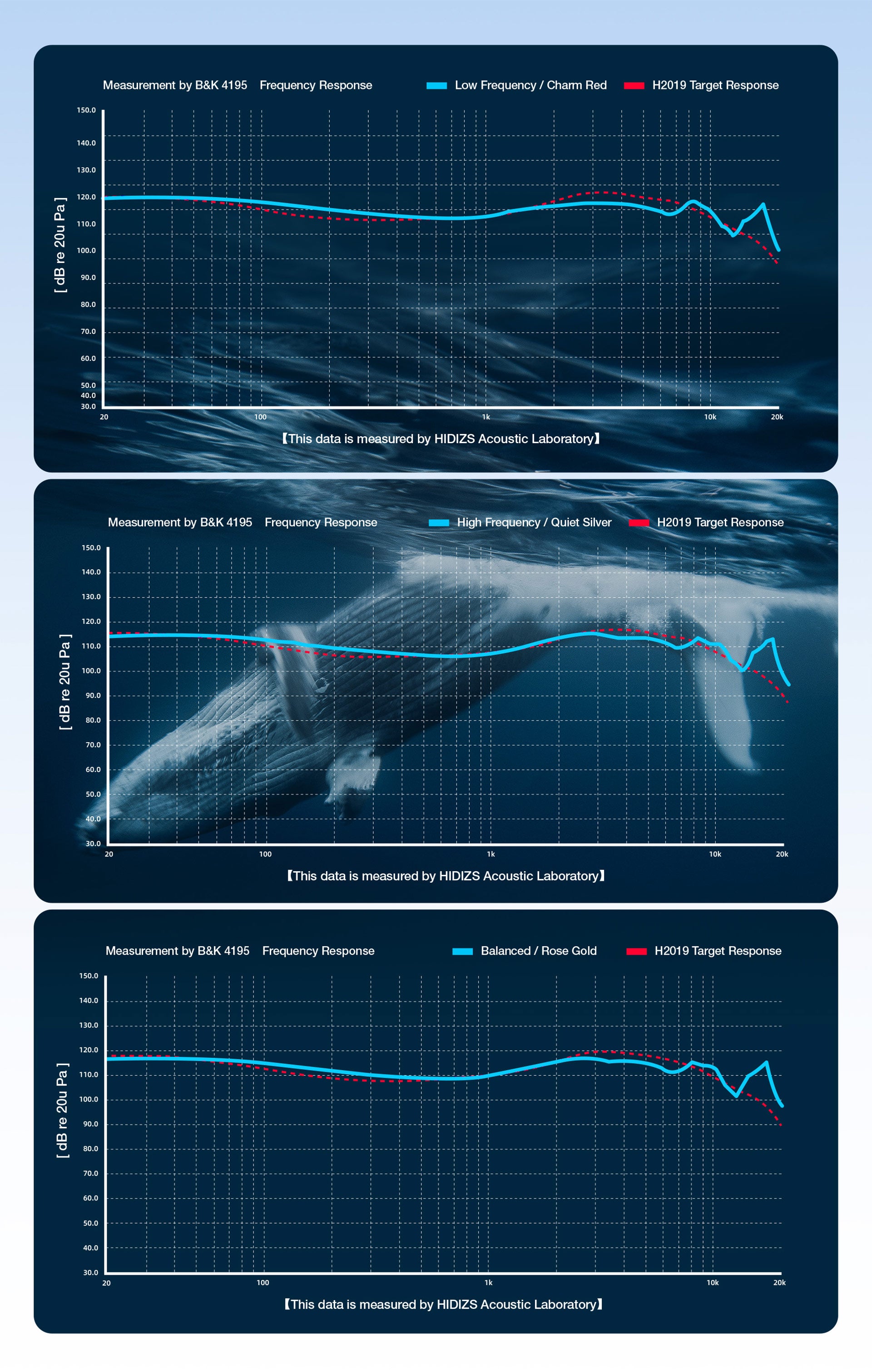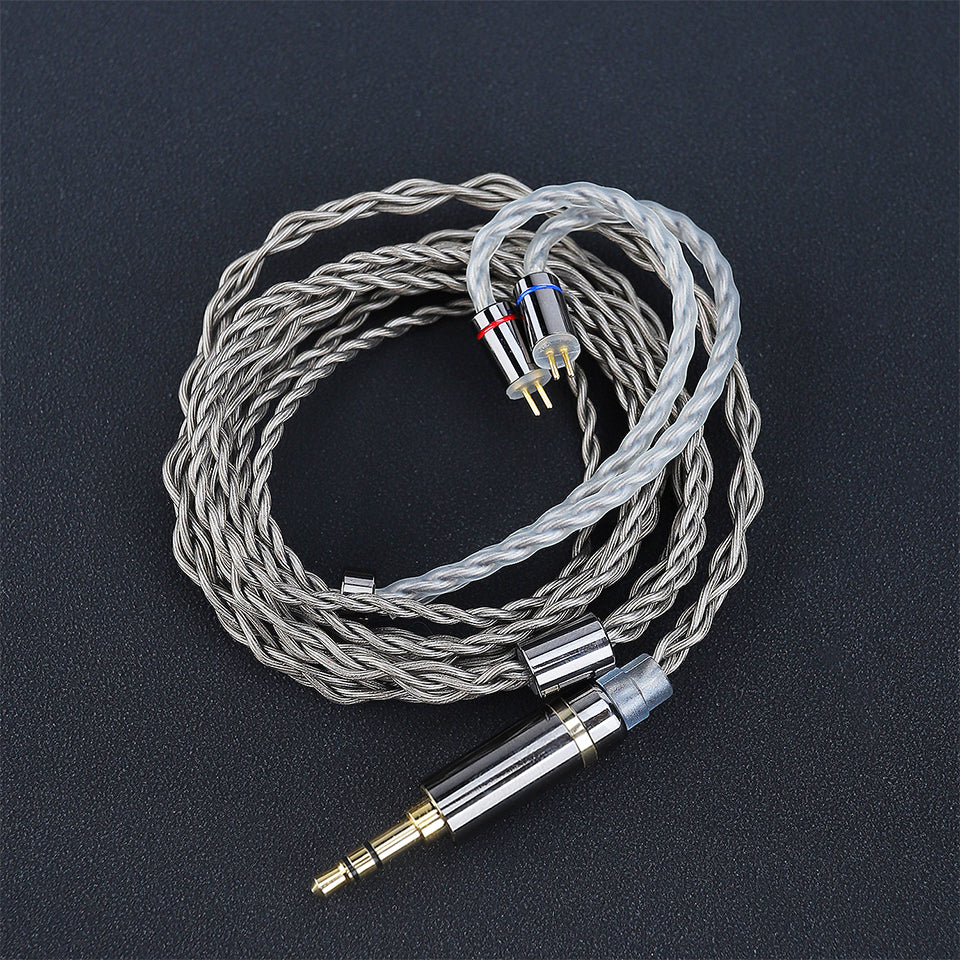 Crystal Clear Connectivity: The Uncompromising Signal Cable
The MP145 features a signal cable with high-purity single-crystal oxygen-free copper silver-plated wire, offering "crystal boundary-free" low-resistance and high-tensile listening experience. Enjoy enhanced resolution in mid-to-high frequencies and astonishingly clear vocals, making it a must-have for high-end headphone signal cables.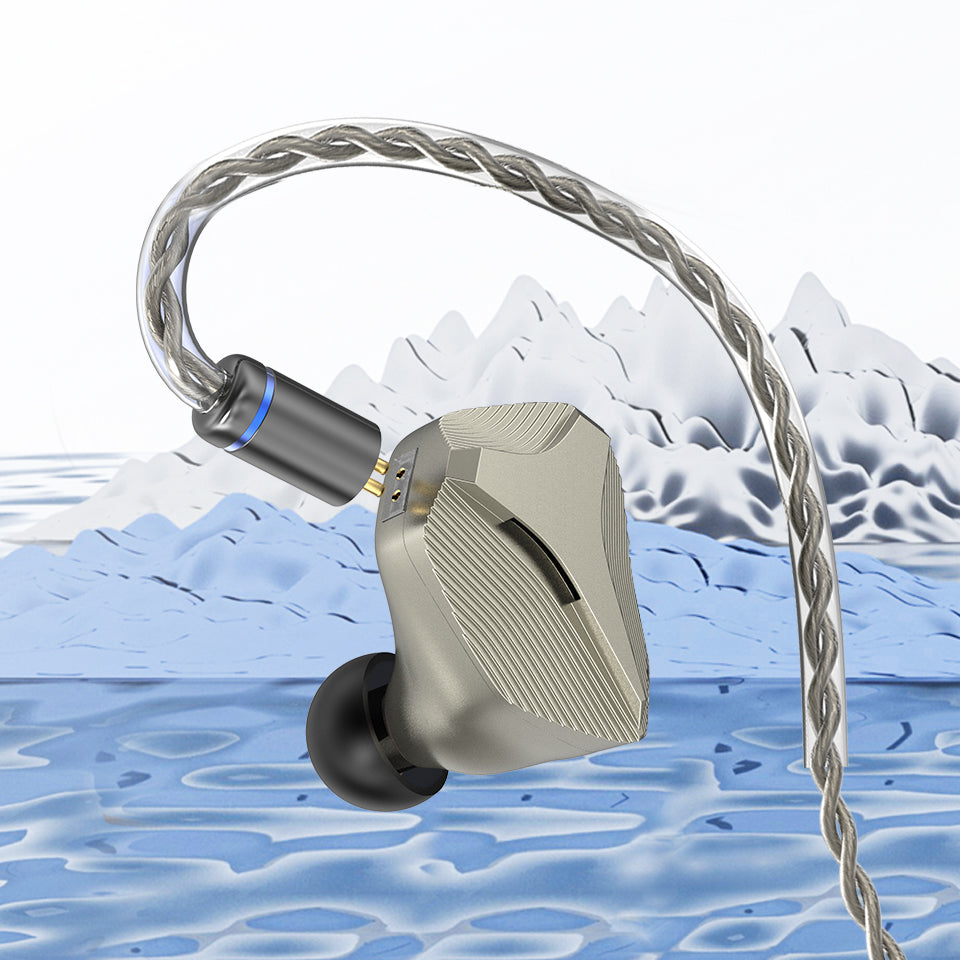 Hi-Fi Compatible: Standard Detachable Cable & Durable 2pin Plug
The Hidizs MP145 pairs perfectly with Dongle DACs and Music Players, featuring a secure 0.78mm 2pin connector meeting Hi-Fi standards. Its copper-plated housing ensures durability and compatibility with most earphone sockets and HIDIZS units. Choose from 3.5mm single-ended or 4.4mm balanced versions for flexible audio options.
Hidizs Liquid Silicone Ear Tips & Customized Pouch
Ergonomically designed from high-permeability liquid silicone, these tips provide a snug fit for lossless bass and improved audio quality. Includes a customized pouch for worry-free storage and extended usage.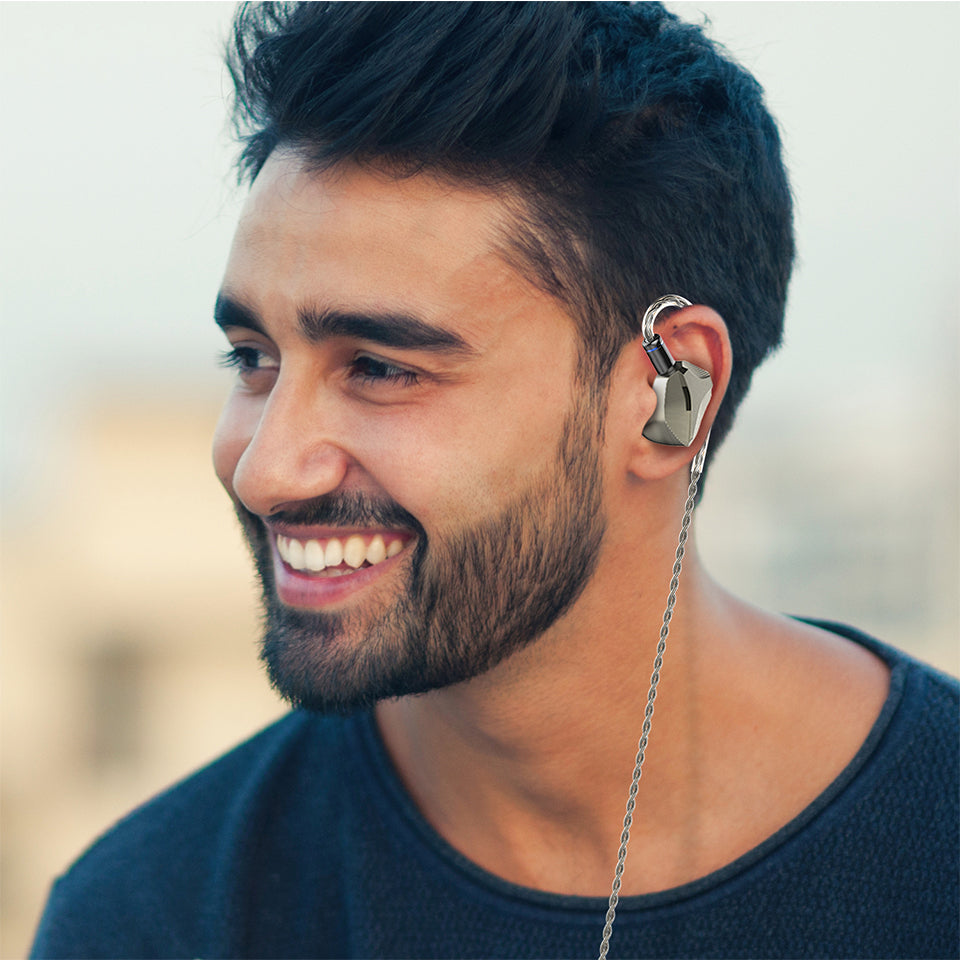 Experience Music in Hi-Res
Certified for Hi-Res audio, the MP145 delivers unparalleled richness and detail, faithfully reproducing every nuance of your favorite tracks. Rediscover your music collection with a new level of audio experience.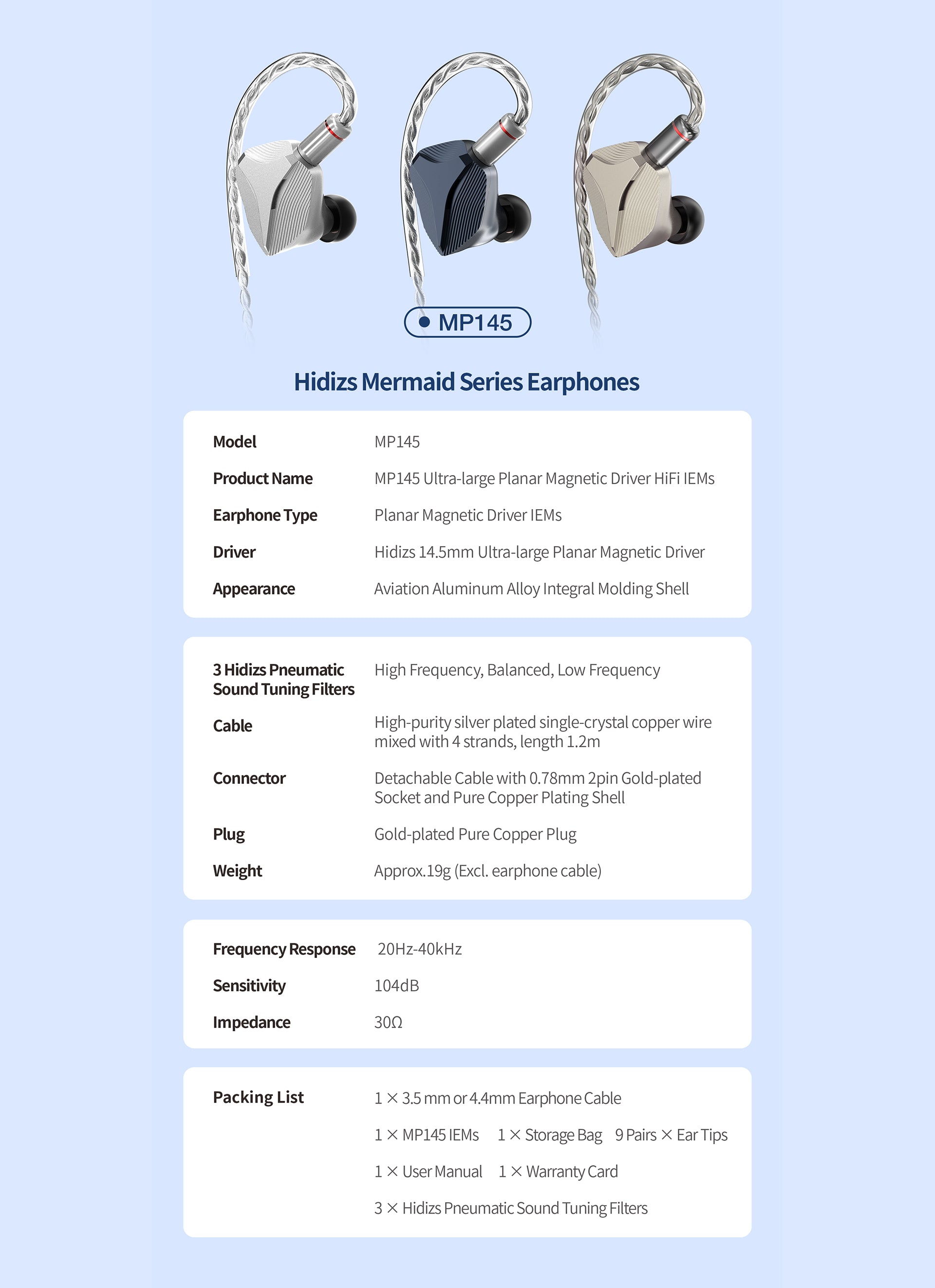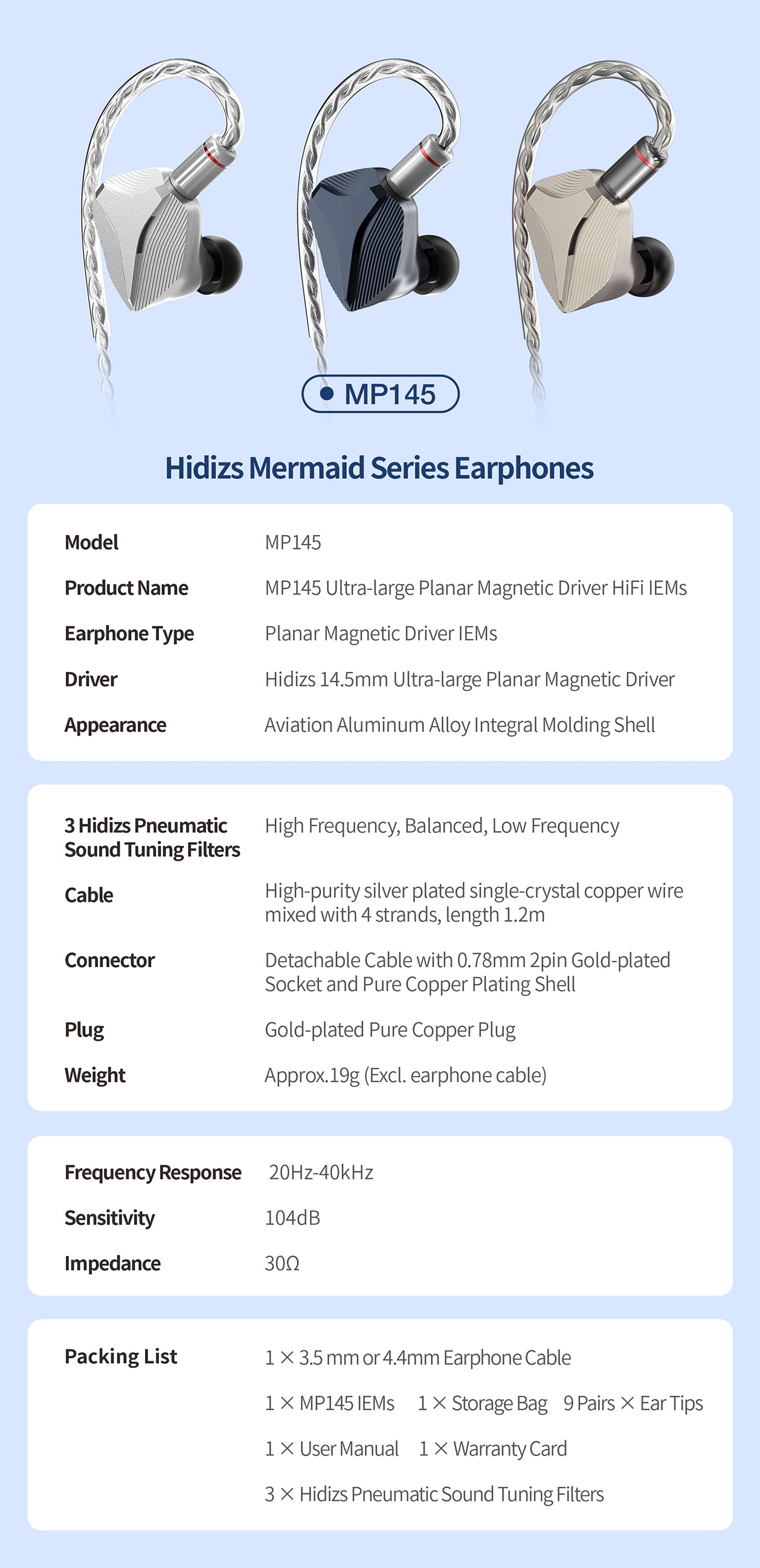 FAQ
Can't find the answer to your question? Join the Hidizs official Discord server and discover what other users think about the MP145.

Not only our Hidizs Crew, but all Hidizs lovers in the server will be more than willing to share their thoughts!
What is a Planar Magnetic Driver?

Planar Drivers, also known as Planar Magnetic Drivers, deliver unparalleled clarity across a wide frequency range, boasting ultra-low distortion. Their diaphragm material is expertly suspended within robust magnetic fields, ensuring exceptional performance. Additionally, these drivers offer rapid response times and minimal transient errors in the output, guaranteeing an impressive audio experience.
The planar magnetic driver operates through a unique blend of electrostatic and dynamic mechanisms. It features an ultra-thin, flexible membrane suspended between two powerful permanent magnets. When sound is produced, this thin film swiftly moves within the active magnetic field, resulting in a natural sound response with ultra-low electronic and harmonic distortion. However, planar drivers require more power compared to dynamic and balanced armature types, and their larger size makes them challenging to implement in hybrid driver setups.
Advantages of Planar Magnetic Drivers

Planar-magnetic drivers typically come with a higher cost compared to balanced-armature or dynamic drivers. Additionally, their larger size demands more power for optimal performance.
Hi-Res Audio stands for High Resolution Audio, representing high-resolution audio quality. The Hi-Res logo, often referred to as the "Little Gold Label," features a black design on a gold background. All Hidizs earphone products have received Hi-Res certification, ensuring that their audio performance meets the Hi-Res specifications set by JEITA (Japan Electronics and Information Technology Industries Association), guaranteeing high-quality audio. As per the JEITA specification, the analog audio frequency response must exceed 40kHz, while the digital audio sampling rate should surpass 96kHz/24 bit.
This product has no reviews yet.